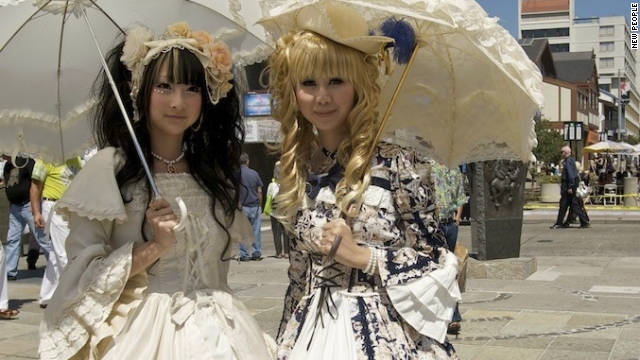 "
San Francisco will see an exciting new addition to its fashion boutiques this fall with the addition of a line of clothing from Japanese designer h.NAOTO.
NEW PEOPLE
, San Francisco's premiere destination for all things Japanese, has just hosted an event to celebrate the debut of the fashion line, which was previously only available for purchase in Japan.
Many of h.NAOTO's designs fall into the category of "gothic lolita," which is a term that may be commonplace in Japan, but is still considered a niche in the United States.
You may not be sure what you are looking at if you spot a woman wearing doll-like clothing, highly detailed accessories such as patterned stockings or ruffled cuffs, small hats, and long curled, flowing hair. Does she carry a small purse with handles? Does her clothing seem as if it's come from another century?
You've seen your first Lolita."
First off, I am really really happy that h.NAOTO finally opened up shop overseas. If this makes ordering online more feasible, I am super excited. I have a secret love affair with the brand I think.
Next, the author did a pretty good job at summing up Lolita and touching a bit on major brands that have a hand in the market. Of course, she confused one or two natural kei brands with Lolita, but for someone relatively unfamiliar with the style, it's understandable.
There are a few twittering commenters on the page spouting rude remarks, as is natural for these kinds of things, but so far nothing atrocious. I just thought I would share this article with all of you. Because it's always a good day when Lolita gets an honorable mention in mainstream news and it isn't botched to hell and back.