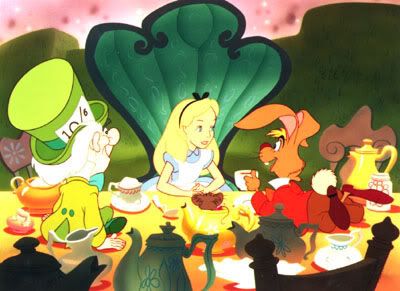 To me~!
Screw you, Alice. Today the spotlight is on me and that quirky rabbit's gonna serve me cake while I listen to the mad hatter go on and on about tea.
Well okay, that's definitely not how it's going down today, but a tea party certainly would be ideal. I'll most certainly be dressed for the occasion.
It's only been my birthday for 50 minutes, but I figure now's as good a time as any to throw in a blog entry. So here it is!
Today, I will be going over to my boyfriend's grandparent's home to clean for them. It's something we do every two Fridays and so I'm not going to skip it. Besides, Rita always cooks us a nice meal, so who am I to turn down free food? After that, I'll put my cute Lolita stuff back on (photos in the next entry, I promise) to go out to dinner with Bert, my boyfriend's father. He's a groovy dude and I'm hoping he'll also take me to the Magickal Blend to I can check the place out and maybe bribe a pagan gift out of him. And after that we'll go out to dinner. I'm keeping my fingers crossed for Three Amigos...since I've been craving mexican food lately and it's the only real hispanic restaurant in Montreal.
I have no idea about gifts though. Or rather, if I'm actually getting any. I certainly know what I want though.
I was browsing Bodyline and they have some AWESOME necklaces on there...namely this one:
http://www.bodyline.co.jp/bodyline/photos/acc083-2.jpg
I took one look at it and cried out "Cernunnos!" so yeah. It's gonna be mine. Somehow.
There's also this gorgeous long Victorian skirt on the site as well. For $25. What a steal. I mean, seriously. I hinted to my boyfriend that I really want it, so we'll see.
Anyways...I intend to have a great birthday and this also marks for me the 31 days of Halloween...so be prepared for LOTS of Halloween related content on this blog. Adieu!