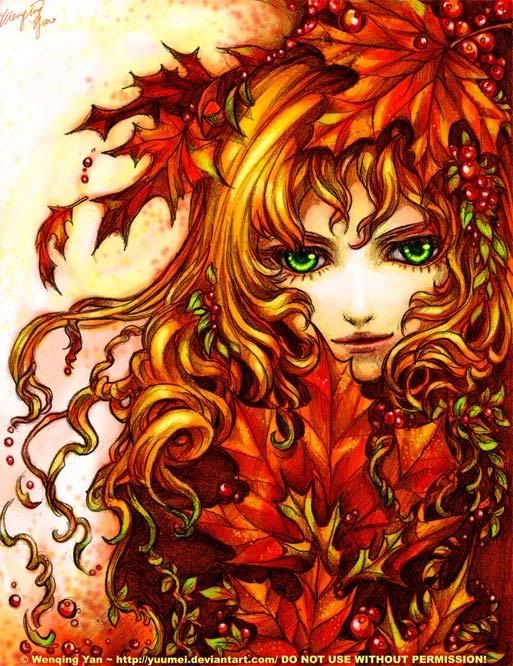 The rest of Lolita-Land is awash in all the rich hues of the fall season. The Classic and Country Lolitas are opting for warmer shades of red or yellow and throwing on a lot more brown than they would dare during the rest of the year. The Sweet Lolitas are still as sugary and cute as ever, but now they're bundling up in pretty pink cardigans and adding pastel tights to their coordinates.
So where does that leave us, the solemn Gothic crowd ever shrouded in basic black?
Well for one, black looks amazing set against a backdrop of dying leaves. The colors just "pop" more I guess. So don't feel too bad about not having the wardrobe to match the season, you can still easily autumnize your Gothic Lolita coordinates!
~Layer~
Now is a great time for layering your favorite pieces, since now that the weather has gotten more bearable, you won't roast to death. Pair a lovely black blouse with your favorite vest and skirt and maybe slip on a pair of autumn inspired tights under your lacy black socks!
~Gloves~
They seem a bit tacky in summer, but autumn is the perfect time to dig out your favorite lacy or opera-style gloves. They instantly pretty up any lacking coordinate!
~Coats and Jackets~
If you're fond of blazers and long trench coats, now is most definitely the time to break them back in. It may not be entirely cool enough to NEED a coat, but if you go sparingly under it (no long sleeves or perhaps forgo a blouse altogether) you'll be fine!
~Hats~
Yes, most of us love hats almost as much as we love our dainty little headdresses. But I'm thinking more along the lines of berets and top hats. Like...real top hats, not these mini ones that perch on the side of your head. I think top hats are great for autumn! In addition to berets dressed up with brooches, feathers, and ribbons, you can also try out bowler hats...which are very elegant and somehow reminiscent of the 1930s.
~Scarves and Jabots~
These are two of my favorite things. A jabot will instantly vamp up and aristocrat-ize your coordinate, but if you want a more flowy look, opt for a sheer black scarf and drape it around your neck and shoulders.
~Boots~
This is also the time to kick out your favorite boots. Some of them are just too hot to wear during the summer, but they'll be a perfect finale to your pretty scarf and coat!
~And after all that~
If you're still sick of black and want to participate in the season...wear something in a really dark red. Or...you could go completely opposite and wear all white or all cream. Just remember to stay warm.
This is my favorite season and I'm looking forward to putting together some really neat coordinates of my own to reflect the seasonal changes.